Morocco - Secrets of the Sahara
Posted on 2019-02-19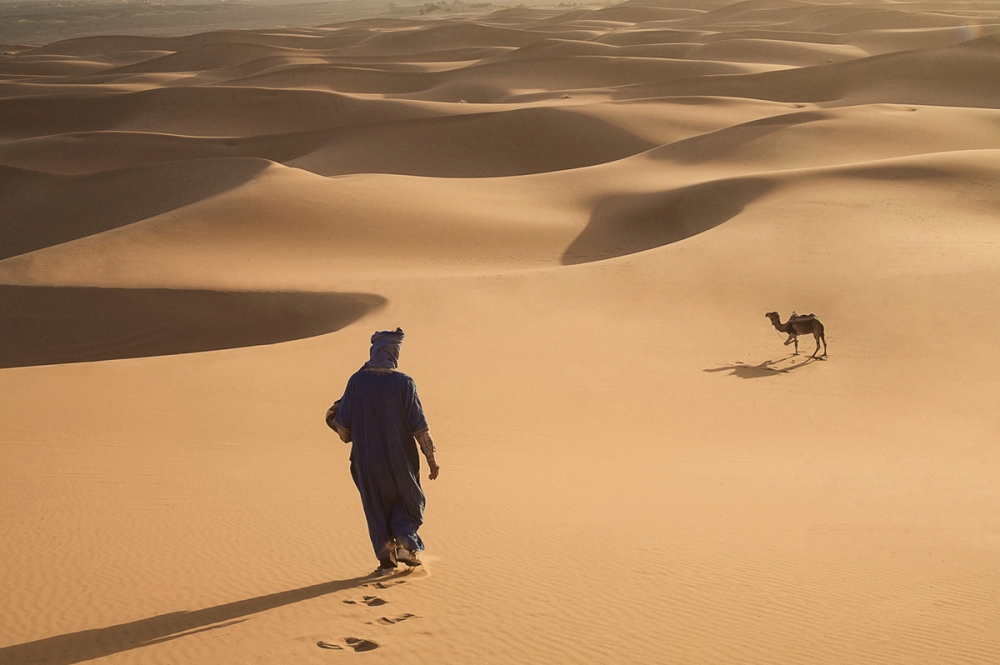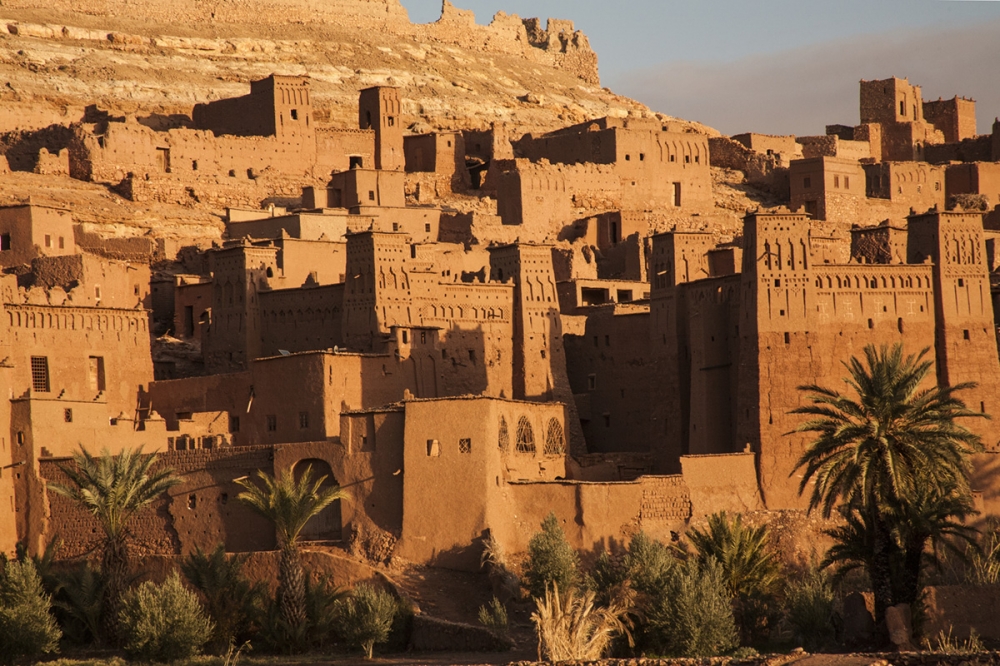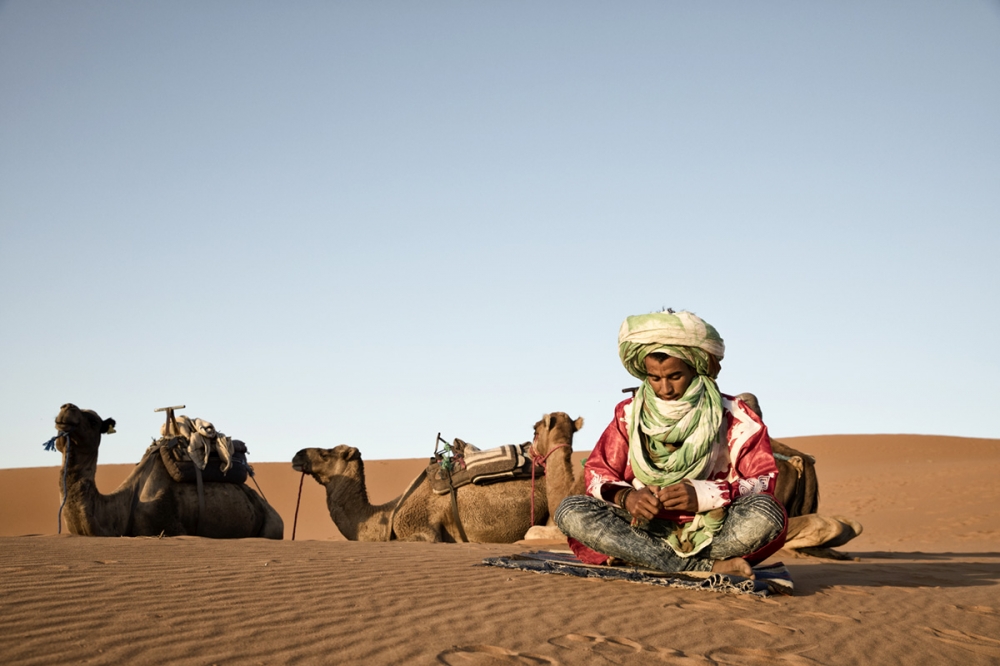 Description
marrakech - telouet - ait benhaddou - agdz - zagora - tamegroute - mhamid - erg chigaga - tata - taroudant
Day One
Arrival in Marrakech. Pick up from Marrakech Menara Airport and check into hotel. Welcome drinks and dinner at hotel. Overnight Marrakech
Day Two
Marrakech walking tour with Suzanne and a local city guide - a behind the scenes look at the inner workings of the ancient Marrakech medina and artisans at work in the souks. Free for dinner of your own choice. Overnight Marrakech
Day Three
8 AM pick up from hotel. Leave Marrakech behind and pass through one of the most winding and dramatic routes in Morocco as we enter the Atlas Mountains and her dense forests. Soon after crossing the Tizi n Tichka pass at 2100 meters, take an 'off road' to the left, leading us to the Pasha's derelict palace at Telouet and the nearby salt mines. Continue along Ounila valley to reach the village of Tamedaght in the afternoon. Visit the local troglodyte grottos and the Berber granary. Dinner and overnight. (total: 4 hours driving)
Day Four
Early start to bake bread in the earth oven with the village ladies. Leave the Kasbah for Ait Benhaddou. Wander through the honey- comb citadel of the UNESCO world site, before the tourist buses arrive. Pass through Ouarzazate and cross the gorges to reach the peak of 1700 meters, from where the panorama of the legendary Draa Valley unfolds. Outside Agdz, it is worth visiting the Black people village and the ksar of Tamnougalt. Before Zagora, a dusty off road will take you to local prehistoric rock engravings. Reach Zagora early evening. Dinner and overnight . (total: 3 hours driving)
Day Five
After breakfast, discover the nearby village of Amezrou and its Jewish heritage - the old adobe synagogue and the silver jewelry craft. Further on, the stoves of Tamegroute cast the emerald glaze so easily identi ed on mosque tiles, dishes and pots across Morocco. The nearby Nassiria library holds a 10th century gold- engraved Koran and various treaties on astronomy, medicine and Arab poetry among other gems. Before leaving the tarmac behind to take on the Sahara, we visit a traditional ksour and have lunch with a local family. From Mhamid, cross various types of desert, to reach the dunes of Erg Chigaga, with the last bit on the back of a camel...Astrophotography for those who are interested. Dinner and overnight in luxury tents with ensuite shower and toilets in the middle of the dunes. (total: 3 hours driving)
Day Six
Early rise for sunset shots amongst the dunes. Free time to work on photos or enjoy a leisurely walk around the tranquil desert. Lunch at the Sacred Oasis. Afternoon, visit to a nomad school. Photo critique after dinner. Overnight Azalai Lodge.
Day Seven
After breakfast, get on the road and take on the hamada ( rocky desert). Pass the dry lake Iriki and pluck out milenia old fossils . Re-join the tarmac once again at Foum Zguid. Have a tasty lunch by the pool at a local guest house or opt for the more local choice of kefta in the village. Take the road west and soon reach the salty waterfalls of Tissint. Stunning landscapes and panoramas. Reach Tata and the 500 year old guest-house, your dwelling for the night. Dinner and accommodation at Dar Infiane. (total: 5 hours driving)
Day Eight
Start the day in the palm groves of Tata and discover the water tower and the khettaras with a local guide. Visit the local grottos before taking the road heading north. You are soon into the Anti Atlas, their dramatic twists greeting the panorama. Stop in a village and awe at the local century- old granary, where locals deposit their grains, still in use. Further on, admire some of the first Berber alphabet signs, engraved on the rocks. Have a picnic lunch to then reach Ighrem and descend on Taroudant, the snow- capped peaks of the High Atlas glinting in the background. Arrive in Taroudant late afternoon. Dinner and accommodation at Dar Al Hossoun.(total: 4 hours driving)
Day Nine
Breakfast and then free time to either work on photos, take a caleche ride around the walls of Taroudant or visit Sous Massa bird reserve. Back on the road around 11am, heading north through the High Atlas mountains. Reach Tizi n Test pass, peaking at 2000 meters high. Hopefully a chance to take some great panoramic shots, if clear skies. After many twists and turns, stop by the 12th century old mosque of Tinmel. A little further to Ijujak for a lunch with a local family. Skirt past Asni, Tahnaout and arrive in Marrakech in the evening. Dinner and photographic presentation. Overnight at Palais Khum. (total 5 hours driving)
Day Ten
Transfers to the airport. End of the tour.
Price is per person and based on single room occupancy
Please note: this price includes a 1 % donation towards educating young girls in remote areas of Morocco: https://www.efamorocco.org
Where
North Africa and Middle East
What
Experience local culture
Explore nature
Approach people
Street life
When
2022
2023
Get in touch for availability
Languages spoken
English and French
What is included
Pro photographer
Transfers to/from hotel/airport
Accommodation
Some meals
Tour leader expenses
Internal transport
Car & driver
Local guide
Tips
Entrance fees (parks, monuments ...)
Personal critique/review
What is not included but recommended for the experience
international transport
drinks apart from in the vehicle
alcohol
lunches where not noted
travel insurance
Five Keywords that best describe the experience / photographer
travel, off the beaten track, cultural encounters, real morocco
Camera equipment used by photographer
Canon and Olympus
Non photographer's welcome
Yes
Reviews

Oct 14, 2019

SP and her team at clik-trip photo provide an excellent photo experience. SP lived in Marrakech for several years and knows the city inside & out. She takes you to all the back ally ways/ beautiful archways/ provides great feedback and helps w/your photography ensuring you get the photos you want. SP is friendly & very professional. Well worth the price to see and photograph Marrakech with someone who really knows what she is doing. Highly recommend SP or anyone that works with her.

Jul 31, 2019

A highlight of my journey throughout Morocco were the two days I spent with SP in Marrakesh. She is a gifted photographer, an inspirational instructor, and an incredibly knowledgable tour guide. I was even sent back to my hotel with a homework assignment. In addition to guiding me on the roads less traveled by tourists, she also introduced me to many locals who were more then happy to have their portraits taken. We spent quite some time standing at one of the entrances into the medina where I was able to photograph a variety of Moroccans from different walks of life as they entered or exited the city. We also spent time in a tannery capturing the scene as well as the different workmen. As we wondered through the medina and souk we often had to fight our way around the donkeys, carts, motorbikes and vehicles. One must keep one's eyes wide open not only to capture all the special moments, but to live to tell about it. I thoroughly enjoyed my time with SP and hope to meet up with her in another part of the world.

Other listings from SP