Concours Photo Club Nautique de Cholonge
Posted on 2022-07-23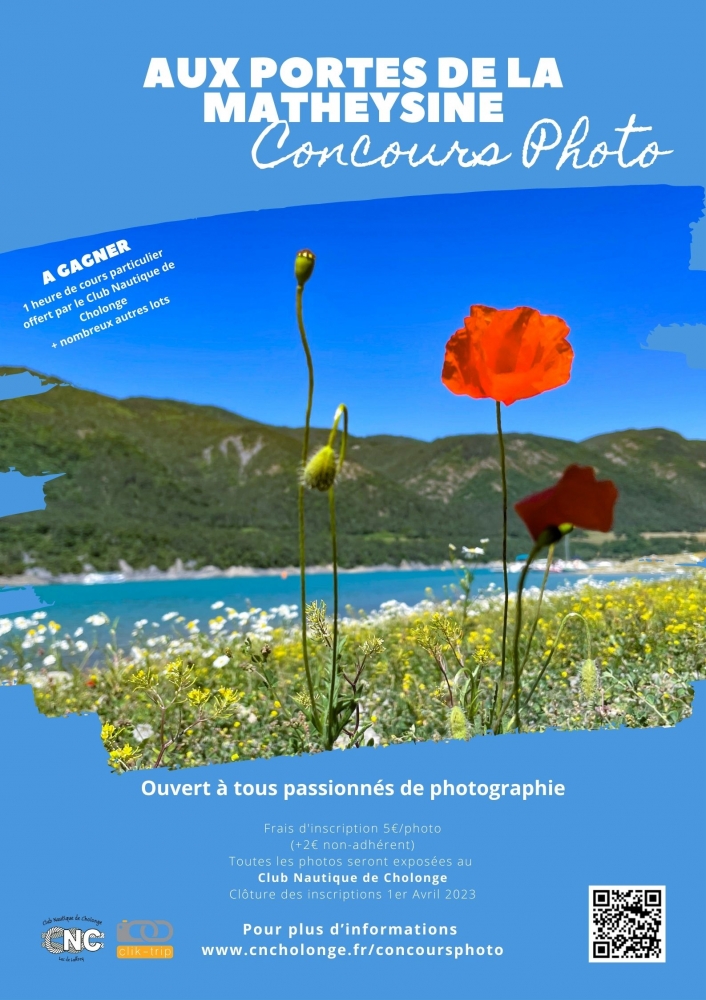 Description
Le concours photo du CNC est ouvert à tous les adhérents passionnés de photographie, amateurs ou professionnels.
Le thème du concours est 'La couleur tantôt turquoise ou vert émeraude', 'aux portes de la Matheysine', 'La vie aux lacs de Laffrey' Les participants peuvent interpréter les thèmes à leur guise et soumettre leurs plus belles photos
Les formats d'image doivent être l'un des suivants : 2:3, 3:4, 1:1 ou 1:3
Les photos doivent être soumises à Google Drive au format JPG en sRGB, minimum 2000 pixels de large (bord long), 300 dpi avec titre : 25 caractères maximum. Exemple : Coucher de soleil sur le lac. Pas de trait de soulignement, pas de tiret pour séparer les mots dans votre titre.
Tous les dossiers reçus seront imprimés au format 13 x 21 cm* sur papier photo et exposés au club-house du CNC pendant un mois, période durant laquelle ils seront ouverts au vote du public et au jury.
Les 10 gagnants sélectionnés par le public recevront un prix.
Les frais d'inscription sont de 5€ par photo avec un maximum de 5 photos par participant. L'adhésion au club pour les non-adhérent sera de 2€ lors de l'inscription.
Une fois que vous vous êtes inscrit et avez payé votre inscription, vous pouvez télécharger vos photos en utilisant ce lien: https://forms.gle/RLxeoCYGVoUEi93h9
La date de clôture des inscriptions est le 01/04/2023.
Le Challenge Photo ne doit pas se faire au détriment de la préservation de la faune et de la flore locales. Les participants se doivent de ne pas déranger la faune locale, ni abîmer leur habitat. Pour se faire, celui devra se munir d'objectif longue distance afin de prendre en photo les espèces dans leur habitat naturel. Tout manquement entraînera une disqualification ainsi qu'un report auprès de l'organisme de protection des Espaces Naturels Sensibles.
● Jury :
Aurélie Deniaud, représentant la commune de Cholonge
Amandine Lemercier, représentant les ENS de Matheysine
Didier Revol, représentant le Club Nautique de Cholonge
Suzanne Porter, photographe professionnelle et représentant les adhérents du CNC
● Prix :
1 x bon pour 1 heure de cours particulier offert par le Club Nautique de Cholonge
1 x tour en Goélette pour 10 personnes offert par le Club Nautique de Cholonge
5 x location d'1h de paddle offert par le Club Nautique de Cholonge
1 x nettoyeur de capteur offert par Images Photo Grenoble
Les gagnants finaux conserveront ces photos imprimées au format 40 x 50 cm* comme prix.
Tous les participants reçus ces photos imprimés au format 13 x 21 cm* sur papier photo
Et pleins d'autre petits lots
*le format exact dépendra du ratio de la photo que vous avez saisie
Pour plus d'informations: https://cncholonge.fr/concoursphoto ou envoyez-nous un message via le bouton de contact.
In English...
The CNC photo competition is open to all members with a passion for photography, whether amateur or professional.
The theme of the competition is 'Turquoise or emerald green', 'At the gates of the Matheysine', 'Life at the lakes of Laffrey'. Participants can interpret the themes as they wish and submit their most beautiful photos
Image formats must be one of the following: 2:3, 3:4, 1:1 or 1:3
Photos should be submitted to Google Drive in JPG format in sRGB, minimum 2000 pixels wide (long edge), 300 dpi with title: maximum 25 characters. Example: Sunset on the lake. No underscores, no hyphens to separate words in your title.
All entries received will be printed in 13 x 21 cm* format on photo paper and displayed in the CNC clubhouse for one month, during which time they will be open to public voting and judging.
The 10 winners selected by the public will receive a prize.
The entry fee is 5€ per photo with a maximum of 5 photos per participant. Non-members will be required to pay a €2 membership fee at the time of registration.
Once you have registered and paid your entry fee, you can upload your photos using this link: https://forms.gle/RLxeoCYGVoUEi93h9
The closing date for entries is 01/04/2023.
The Photo Challenge must not be at the expense of the preservation of local flora and fauna. Participants must not disturb local wildlife or damage their habitat. To do so, they must use a long range lens to take pictures of the species in their natural habitat. Failure to do so will result in disqualification and a report to the organisation responsible for the protection of sensitive natural areas.
Judges
• Aurelie Deniaud, representing the commune of Cholonge
• Amandine Lemercier, representing the ENS de Matheysine
• Didier Revol, representing the Club Nautique de Cholonge
• Suzanne Porter, professional photographer and representative of the CNC members
Prizes
• 40 x 50 cm print for each winner (the exact format depends on the the ratio of the photo you submit)
• Each participant receives a 13 x 21 cm print of their photo.
• 1 x voucher for 1 hour of private tuition offered by the Club Nautique de
Cholonge
• 1 x Goelette tour for 10 people offered by the Cholonge Yacht Club
• 5 x 1 hour paddle rental from Cholonge sailing club
• 1 x sensor cleaner courtesy of Images Photo Grenoble
• plus lots of other prizes...
For more information: https://cncholonge.fr/concoursphoto or send us a message via the contact button.

Other listings from CT