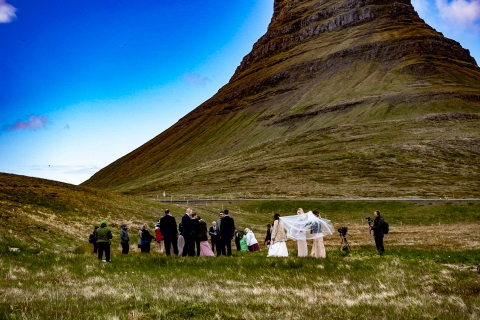 Well, even if we were there at the start of the Icelandic summer - sunny days, white nights, our day with a great, local photographer was challenging weather-wise. A gusty, on-shore wind brought the temperature right down despite the blue skies so at times I wished I had brought my fingerless photo gloves. 

We were picked up in a Landrover at the hotel Budir - about two hours north of Reykjavik. The local photographer had driven up that morning. The Budir is a small, great hotel on the Snaefellnes peninsular. It sits beside the sea with a simple, black, wooden chapel and graveyard adjoining. That was the first stop on our photo adventure; slowing down the exposures with the help of his tripod and neutral density filters to capture the movement of the long grass in the wind. 

 
Our day was spent exploring - the chapel at Budir, the rocky beaches - so typical of the Icelandic coast, the cliffs. birdlife and small fishing harbour at Arnarstapi and Hllnar; all the time driving between spectacular volcanic peaks running inland to your right and the flattened coastal plain drifting into the Atlantic to your left. 
 
The local photographer, who knows the area like the back of his hand, took us to views, rocky coves and wreck-strewn beaches that we would have simply driven past or missed if exploring on our own. And on the way he was giving great tips about composition, lighting and helping me get the hang of working with his filters. He was an interesting guy to talk photography with for a day and get an Islander's view on this amazing island. 

The day ended Grundarfjordur at the view from the waterfalls to the spectacular Matterhorn-like mountain peak that is one of the best known images of Iceland, where. despite the wind, we saw a courageous wedding party, either turning up for late afternoon photos or perhaps for the whole ceremony - they were braver men and women that us. From there we closed the circle by driving back across the mountains to the hotel. Despite this being peak summer, the route and the stops never felt massively crowded. This peninsular is much less on the tourist map than the well-travelled Golden Circle. 

Our second day without the local photographer, we returned to the back to the North side of the peninsular, more photos and on to Stykkisholmur with its ferry, small harbour, lighthouse and a great fish restaurant, recommended by the Hotel Budir, before turning back to Reykjavik and an airport hotel before an early flight the next day. 
 
And what remains? The special light, especially at midnight or later, the spectacular scenery, the long, open roads and the burning of cold fingers, almost too stiff to click the shutter. Remember those gloves...
by Peter...
Would you like to book a photo tour with a local photographer in Iceland?  Click here to find a selection of workshops and tours.