Know your Photographer
Interview One: Orvieto, Italy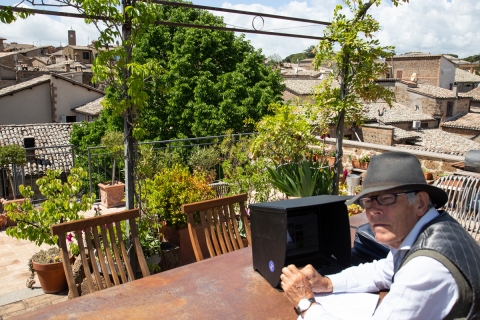 What photo experience/s do you offer?
Landscape for all levels and nude in the landscape masterclass
How would you best describe your style?
Influenced by fine-art especially painting
What is it that makes a photo experience with you unique?
 40 years of experience in a many different photographic disciplines from portraiture to advertising, from landscape to fashion and beauty. I have spent most of my working life in Italy so I know the language and culture well.
A typical day...
We meet every morning for breakfast in a street café or in my photo gallery. We leave Orvieto by car for the delights of the landscape within an hour's range of Orvieto. This can take us through Umbria, Tuscany or the little known Lazio region north of Rome. This is an ancient landscape of extraordinary variety from the Tyrrhenian coast in the west to the Trasimene lake near Perugia in the East on which almost every European civilisation has left its mark. We could be in the ancient hill town of Bolsena in the morning, having a picnic by the eponymous lake and watching the sunset from Pitigliano in Tuscany that evening.
What's on your playlist/reading list? 
 All rather apocalyptic I'm afraid! Reading: Journal of a Plague Year, Daniel Defoe; Purple Cloud by Shiel; stories by Arthur Schnitzler, any film by Wes Anderson or Chris Nolan; Delicatessen by Jeunet & Caro. I like to listen to Max Richter while I'm working, especially 'Sleep' all 8 hours! I have been learning video editing in Premiere in order to make short videos about my photography work and also our photography excursions. I am recording a plague journal on video for my daughter to watch in 20(?) years time. I also have kept a regular diary for 35 years which is especially weird these days if only for the reporting on Trump's antics.
The first local place you'll be heading after lockdown (restaurant, bar, museum etc) and why?
Lake Trasimene or the Marmore Waterfall. We won't be able to leave landlocked Umbria so the sea unfortunately is out. restaurants will be closed for a long time so a picnic.
Your next adventure, once we're allowed to travel again?
There won't be many foreigners in Italy so a journey round Italy without the hordes as far down the peninsular as we can afford including yet un-visited islands like Ponza (where Il Postino was shot).
Any locals-only, off-the-radar, spots you can share with us?
There are many hidden away places that often locals don't even know. On the coast near Montalto di Castro there is a long strand of black volcanic sand which is privately owned and only accessible by small boat. The bleached logs and driftwood that gather on the beach are never cleared thus lending itself to a peculiarly abstract form of seascape photography.
Your fondest memory on a Photo Experience?
 Difficult one there have been so many! When the individuals in the group mesh together and keep in touch with me and each other later is always rewarding. A very fond memory is of the masterclass with a model on Lake Trasimene. We got out there really early well prepared but during the shoot a fisherman started to dismantle our set. We had to fix it by using inserts shot earlier in the summer. But even at the time it was funny. There is a documentary here: https://vimeo.com/408026179
A Japanese woman wrote a saying in beautiful calligraphy on one of my pictures, "Even a chance encounter is part of our destiny". I think this is particularly apt when we are running workshops for scores of people from all walks of life.
Any advice for budding photographers?
 I asked this question of Robert Frank when he visited Orvieto "Keep your eyes open!" he said. He was that sort of photographer. My advice would keep your mind open.
Finally, 'One Minute, One Photo'.  Tell us about one of your photos in just 60 seconds....
Weeping Willow Woman is available for purchase in the clik-trip shop. 
If you would like  a unique Photo Experience in Orvieto: 
www.clik-trip.com